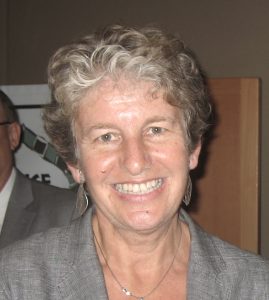 The British-born daughter of Iraqi-Jewish refugees, Lyn Julius founded Harif, the UK Association of Jews from the Middle East and North Africa, in 2005. This organisation aims to raise awareness of the history and culture of the vanishing, pre-Islamic Jews from Arab and Muslim lands. It also seeks to advocate for their rights. Harif produces a monthly newsletter and has more than 2,500 subscribers to its mailing list in the UK and around the world.
Lyn was educated at the French Lycee in London and at the University of Sussex, where she took a degree in International Relations. For three years she lived in Stavanger, Norway where she worked for the English language newspaper, Saga Weekly, and on occasion for NRK News in English.
A journalist and blogger, Lyn has a daily blog about Jews from Arab and Muslim lands with a global following, Point of No Return (www.jewishrefugees.blogspot.com). She  has had articles published in The Guardian, Standpoint, Haaretz, Jerusalem Post, Jewish Chronicle, Huffington Post and is a regular blogger on JNS News and the Times of Israel.

For Harif she has organised over 200 events - talks, film screenings, concerts debates and book launches on subjects ranging from Judeo-Arabic to the Iranian revolution. She has helped arranged hearings on Jewish refugees in the UK parliament at Westminster and has spoken at the annual international education conference Limmud for the last eight years.
Since Uprooted:How 3,000 years of Jewish Civilisation in the Arab World vanished overnight (Vallentine Mitchell) was published in November 2017, she has spoken at schools and universities,  17 synagogues, three churches and two Jewish literary festivals in the UK. She has given a lecture to the prestigious think tank,  Henry Jackson Society, and was  invited to take part by them in a panel discussion in Parliament  on endangered Middle Eastern minorities before an audience of 100.  She has also presented her book to Jewish and non-Jewish audiences in New York, Washington, Montreal  Ottawa, as well as in Norway and Israel, and been interviewed on radio and TV. In March 2019 she toured Scotland and spoke in the Scottish Parliament.
After the session Scottish MP Kezia Dugdale wrote : "I was delighted to host Lyn Julius in Parliament along with the Scottish Council of Jewish Communities, and was both shocked and saddened to hear of an often overlooked and untold piece of history.
After years of research, Lyn's book Uprooted describes the plight of over 850,000 Jews, displaced from their homes in Africa and the Middle East after the Second World War. She intertwines personal case studies with first class historical research and clarity. It's a stunning piece of work which deserves to be read and shared far and wide.Her work is yet another timely reminder of the plight Jewish communities face to live peacefully without fear or discrimination, but also to prosper with acceptance and inclusion, whatever part of the world they call home."
Lyn speaks six languages including basic Norwegian. She  lives in London with her husband Laurence. They have four children and two grandchildren.
_____________________________
Uprooted  is a superb resource for anyone interested in a complex and often overlooked story that is crucial to understanding Israel and the Middle East. Uprooted is highly recommended for many reasons - personal stories, analysis and numbers that are otherwise hard to come by.
Matti Friedman, author of The Aleppo Codex
Lyn Julius' historical account of the fate of the Jewish indigenous inhabitants of the Middle East places on record one of the gravest injustices of modern (and past) times.
Uprooted is a devastating story. To read it is to understand why there is no easy solution to the Palestine/Israel question, let alone one state. This history shows why those who want peace find it so hard to trust their neighbours. It is key to a true perspective on the Middle East today.
Baroness Ruth Deech
Now, in her remarkable book Uprooted, Julius has painstakingly assembled a lifetime's knowledge and distilled it into what may well become the textbook primer for learning about an often neglected sector of world Jewry.
Jenni Frazer, Jewish Chronicle
An authoritative history of the decline and virtual end of Jewish life in the Arab world.
Uprooted will surely not be the last historical examination of the Arab world's exiled Jews, but it is among the first to launch a frontal assault on the myths and preconceptions associated with their plight. For that alone, its value will endure.
Well-researched and accessible, Uprooted is a modern and  welcome corrective the the one-sideness frequently prevalent in public discourse regarding the Arab-Jewish conflict.

Brandon Marlon, Jerusalem Post/ Jerusalem Report 
In Uprooted: How 3,000 Years of Jewish Civilisation in the Arab World Vanished Overnight,Lyn Julius recounts how almost the entire Jewish populations of North Africa and the Middle East were ethnically cleansed, partly in retaliation for the creation of Israel, even though they had been settled for thousands of years.
Allister Heath, Daily Telegraph
One of the best books to come out in 2018. It uncovers a long-neglected but compelling subject, combining impeccable scholarship, research and sumptuous photos, and reads like a novel.
Jeff Klapper, Jewish Link